Imagine You Had The Power To SEDUCE,
STIMULATE And SATISFY ANY MAN…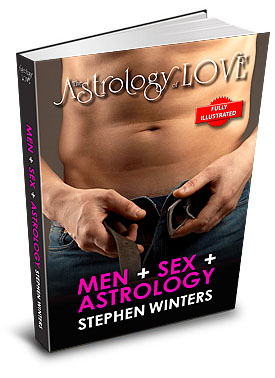 …Imagine You Could Have The SIZZLING SEX LIFE You've Only Ever Read About In Books…
Well, now you can. And what's more, it's easy.
In fact it all comes down to FOUR SIMPLE WORDS:
Know What He Wants…
When you read Men, Sex and Astrology you'll discover exactly what every man from Aries to Pisces wants, needs and the secret turn-ons that even he might not know about!
When you make the decision to buy our eBook, you'll begin a journey toward an exciting, happy and healthy sex life, as we reveal the truth about the men of the zodiac and expose their secret sexual selves.
When you download our sensual eGuide, you'll discover just how easily and naturally you can successfully achieve true sensual happiness. Because our eBook isn't all about him.
Ultimately, it's about you. Your sex life. Your satisfaction. Your happiness.
What's in it?
Each star sign, from Aries to Pisces, is broken down into six detailed sections:
Overview
What Does Sex Mean to Him?
What's in it for You?
What Works for Him?
The One Thing You Must Do
The One Thing You Mustn't
Let's take a closer look at each of those must-read sections:
Overview
This section will give you a general insight into your man. His wants and needs. What drives him.
What Does Sex Mean to Him?
Is sex the be all and end all for your man? Is it inextricably bound up with love? Is it just a bit of fun? This section tells all.
What's in it for You?
This section answers that all important question: is he good in bed? In other words, let's forget wowing him in bed for a moment and make sure he's more than capable of wowing you!
Does he have stamina? Is he inventive? Is he a gentle lover or a wild beast? Is he generous or selfish?
What Works for Him?
Now that we've ascertained whether or not he's capable of lighting your fire, we're going to explore in detail precisely what you need to do to light his fire. This is where we'll discuss:
Seduction techniques
Turn ons
Turn offs
Erogenous zones
Sexual techniques
Sexual positions
The One Thing You Must Do and The One Thing You Mustn't Do.
This section speaks for itself. If you're rushed for time, you can just skim down to this bit and take away these two vital nuggets of information.
[purchase_link id="4104″ text="BUY NOW!" style="button" color="red"]
Aries Man Chapter…[purchase_link id="4104″ text="OWN IT NOW!" style="button" color="red"]
[purchase_link id="4104" text="BUY NOW!" style="button" color="red"]